SWOT Survey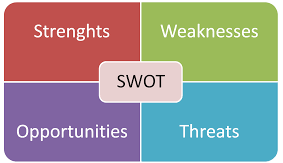 SWOT analysis is a strategic planning technique used to help an organization identify strengths, weaknesses, opportunities, and threats related to project planning.

I. It is designed for use in the preliminary stages of decision-making processes and can be used as a tool for evaluation of the strategic position of an organization.

II. It is intended to specify the objectives of the project and identify the internal and external factors that are favorable and unfavorable to achieving those objectives. Users of a SWOT analysis often ask and answer questions to generate meaningful information for each category to make the tool useful and identify their competitive advantage. SWOT has been described as the tried-and-true tool of strategic analysis.
1. Strengths
---
2a. Training
2b. Social Media
---
3. Weaknesses
---
4. Threats
---
and finally, the PowerPoint presentation that had been scheduled for the March 29 annual CTARES meeting during the Southington Flea Market:
---